Due to the threat of the Goldspotted Oak Borer spreading throughout San Diego County, no oak firewood will be allowed into Palomar Mountain State Park. To find out more about this pest, please go to http://groups.ucanr.org/GSOB/index.cfm

Gathering of dead wood or other plant material is not permitted. Wood can be purchased at the park or you can bring other species of firewood, such as pine or eucalyptus.
There are 31 campsites in the Doane Valley Campground, three of which have accessible features. Each site has a table and fire ring. Piped drinking water is available. The campground also has restrooms with flush toilets and hot showers
which are useable for campers with disabilities.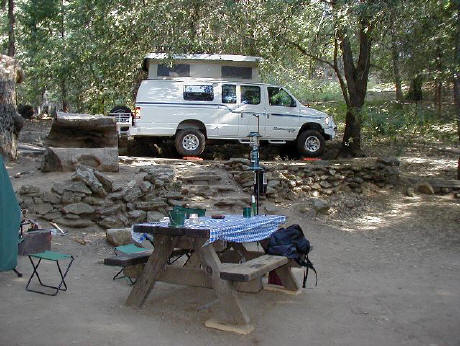 The Cedar Grove Group Campground includes three separate areas with one accessible site and restroom. Group Camp number one will accommodate up to 25 people; the others will accommodate up to 15 people each. Group Camp number one will accommodate trailers and camper vans up to 21 feet in length; the other group camps are suitable for tent camping only. Parking is limited.
RESERVATIONS: Campsites can be reserved up to six months in advance of arrival by visiting ReserveAmerica.com or calling 1-800-444-7275. From outside the USA, call (916) 638-5883. Persons with hearing impairments can call the TDD number: 1-800-274-7275.
The U.S. Forest Service operates two campgrounds on Route S6 outside the park on the way to the observatory. For information regarding these sites, contact the Palomar Mountain District Office, Goose Valley Ranger Station at (760)788-0250.
Please remember:
ANIMALS: Family pets are welcome in the campground and on paved park roads, but dogs must be on a leash at all times. Please, do not leave pets unattended. Pets are not allowed on any trails because they may introduce disease, threaten park animals, and become lost or injured.
PLANTS: Plants are beautiful attractions to our parks but all plants are protected and removal is not allowed. Gathering pine cones or wood is prohibited.
FIRES: Be extra careful with fire. An oversized campfire can be disastrous.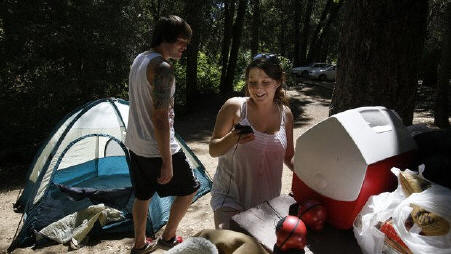 FIREWOOD: Over 10 million people visit California State Parks each year. If each person collected camp firewood the soil would suffer severely without the replenishment of organic material. You may purchase your firewood or bring it from home, but collecting downed wood is not permitted.
PEACE AND QUIET: Some folks come here to "get away." Please observe the quiet hours of 10 pm to 6 am. No generators from 8 pm to 10 am.
PARK ANIMALS: Please do not feed the animals. Don't teach them to like "human food" because it isn't a healthy diet for wild animals, and they'll frequently starve in winter. Remember! Though they may seem tame, these are wild animals. Let's keep them that way!
LITTER: Please keep the park clean. Trash is unsightly and can be a hazard to the wildlife. Be a full time "LITTER GETTER."
WEAPONS: For the protection of everyone, weapons of any kind are not allowed. Items as simple as slingshots and BB guns may cause damage to trees and definitely are harmful to animals. Firearms are used for poaching, and much worse. For these reasons, firearms, BB guns, paintball guns, slingshots, and bows and arrows are prohibited. Firearms may only be possessed when they are rendered inoperable and locked in a case.
BICYCLES: Bicycles are welcome on paved roads, but are not permitted on the trails. Remember, children must wear helmets.
ARCHAEOLOGY AND GEOLOGY: All features are protected and disturbing or collecting is not allowed. Leave any historical artifacts you might find alone and report the location to park staff. An artifact "out of place" is historical knowledge lost.
Remember… IN CASE OF EMERGENCY, CALL 911! If you don't have service on the mountain, find the ranger or camp host.